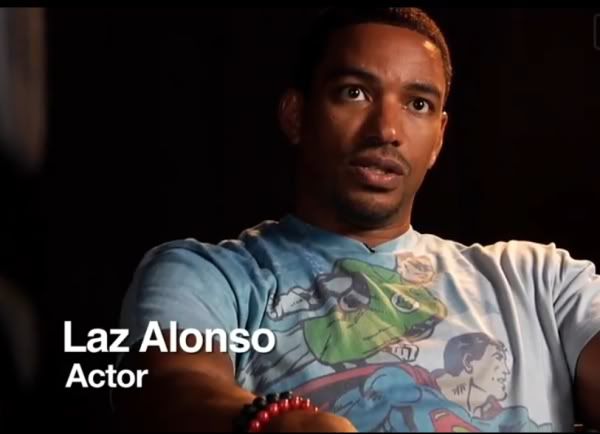 The Mun2 Network has produced an interesting original documentary exploring what it means to be "Black And Latino" in America.  And it's featuring some of our fave YBF celebs.  Watch Laz Alonso, Christina Milian, and Tatyana Ali talk about their controversial experiences inside……
On a new original web documentary called "Black and Latino," celebs like Laz Alonso (Jumping the Broom), Tatyana Ali ("Fresh Prince of Bel Air"), Christina Milian ("Dip it Low") and journalist Soledad O'Brien discussed their experiences and the complexities of race in the Latino community.  They speak on everything from defining themselves to hair to learning to please everyone.
And during a recent interview with Huff Post Black Voices, actor Laz Alonso also revealed plans to start producing his own movies.  And why he's not going to have Latinos playing African American roles and vice versa. Here are the highlights…..
How important would you consider your role in the "Black and Latino" project?
For me it was really important to participate in the documentary because being Black and being Latin is something that at times I have to explain in my entire life how you can be both. And a lot of people think that you can be either one or the other because they don't understand that race & ethnicity are two different things. You can be both. The same way that Latins can be Black & Latin is the same way you can be Black and Jamaican, or Black and British, or Black and Canadian. It doesn't mean that you're not Black. So for me it was really a great opportunity to participate in this.
Has the question inspired your form of expression in any way as an actor?
I think it inspires my form of expression on and off the film set. I feel like there are many different forms of expression. You express yourself verbally, you express yourself non-verbally. And there are a lot of influences that affect a person's performance. So I like to draw from both my African-American influences as well as my Latin influences and add color to whatever characters that I may be playing. But at the same time, I have to be authentic. So if the character is just straight African-American I'm not going to add any Latino or vice versa. But, when it comes to the vibe and the swag that I bring, I bring a little bit of both worlds. Which I feel at times can help separate me from the rest of my peers.
Moving forward to this year, are there any projects that you're currently working on? What's the status of your film with Chris Brown, "Planet B-Boy"?
We actually wrapped "Planet B-Boy." I'm really excited about a film that I co-wrote with my writing partner Rafael Riera. It's a film that takes place in Haiti right after the earthquake. But once again, they're Black and they're Haitian. It's a story that I'm very passionate about telling and it's just a heartfelt story. If you think of something along the lines of "Hotel Rwanda" and "Man on Fire." It's that type of heartfelt, third-world story about what's going on over there..
(Post courtesy of theybf.com)