Things just got real interesting.  There may just be a reason afterall that Rihanna's been hanging out real heavy with her ex Chris Brown.  And it's all because they're allegedly "Cake"in…musically and somewhat physically.  Deets inside…
The homie Miss Info just dropped a musical bomb.  Her longtime industry sources just revealed that Rihanna has made her "Cake" single collabo partner official….and it's none other than Breezy himself.
Rihanna announced weeks ago that she is dropping a full remixed version of her "Birthday Cake" track (from the Talk That Talk album) on her birthday next week.  But she's only hinted as to who she's tapped to join her on the track.  She tweeted that the person is hot….dirty (in a good way)….and male.
The song's producers, Da Internz, told MTV today that the artist she brought on is "gonna shock the world"…but didn't reveal a name.
And "shock" is an understatement. 
Miss Info confirms the cameo will indeed be from Chris Brown.  And he's already recorded both a rap verse and a singing verse.  No word on if one or both will appear. 
This all would explain why both Chris & Rihanna were spotted leaving the (alleged) same recording studio right before the Grammys last weekend.  Hmmm…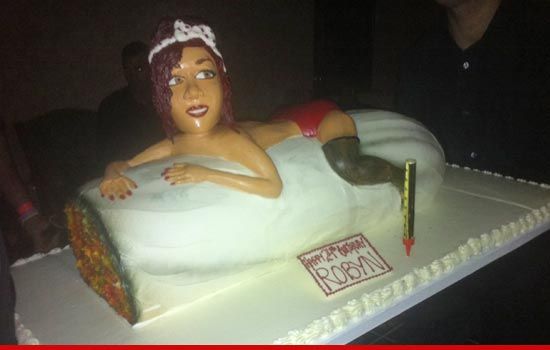 And that's not all…rumors flew last week that Chris Brown hit up Rihanna's private early birthday party in L.A. (since she'll be in London on her actual birthday) a few days ago.  There was no proof before…until now. (The cake above is from her party–and it's Rih Rih in lingerie riding her spliff.)
Some party goers who decided not to answer Chris' demand of signing confidentiality agreement have spilled the beans.  People tweeted he was indeed there–along with Katy Perry, Bruno Mars, Chris Martin and plenty of Rih's other friends.
Reports claim today that Chris not only showed up to the party, but was spotted canoodling up to Rih Rih damn near all night.  And it didn't appear strictly platonic to others.  Other party goers said the same.
Meanwhile, Chris, whose people still deny any type of romantic hook up with Rihanna, jetted to Miami yesterday with his girlfriend Karrueche.  *eyebrows raised*
(Courtesy of Theybf.com)