The second eldest son of rap icon Snoop Dogg, Cordell Broadus (shown above in a USC sweatshirt), has been offered a football scholarship to UCLA!  If he accepts, he could join Diddy's son, Justin Combs, on the team.   
UCLA's Football program seems to be taking a keen interest in the talented offspring of celebrities. Snoop Dogg's son, Cordell Broadus, has become the latest celeb kids to get a scholarship offer.  We told you earlier that Diddy's son, Justin Combs, has already accepted his offer and will be suiting up next season.
Despite being a 15-year-old rising sophomore at Diamond Bar High School, UCLA coach Jim Mora Jr. recently offered the scholarship to Cordell because of his skills on the field.  At 6-foot-2 and 185 pounds, sports experts think his body could develop into that of a Division I prospect.  
Though no one doubts Cordell's skills, Jim Mora Jr.'s offer could be considered a PR move since Snoop Dogg tends to favor USC and their football program.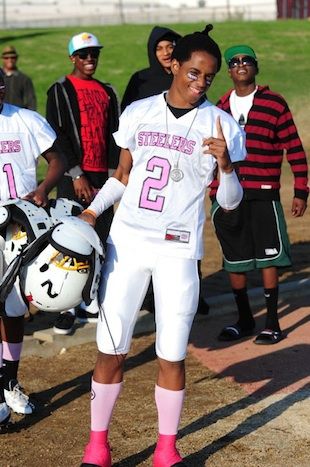 Cordell's current coach, Diamond Bar's Ryan Maine, said, "We're expecting him to really lead us the next three years.  Hopefully [our athletes] get bigger, stronger and keep leading this team."
Cordell recently spoke about his move to Diamond Bar from Long Beach (Calif.) Polytechnic High saying, "The move was difficult when it first happened, meeting new friends and a new team.  It's been good ever since. The competition level at Long Beach Poly is a whole lot different than it is down here, but I've learned that it's all on me and how hard I work."
Would it be a smart move for Cordell to lock in this scholarship now for 2015…or await more offers?  Either way, congrats to him on nabbing an offer after only 1 year of high school play! SOURCE
Be sure to tune into the Midday's weekly 10am-3pm with RoDigga!