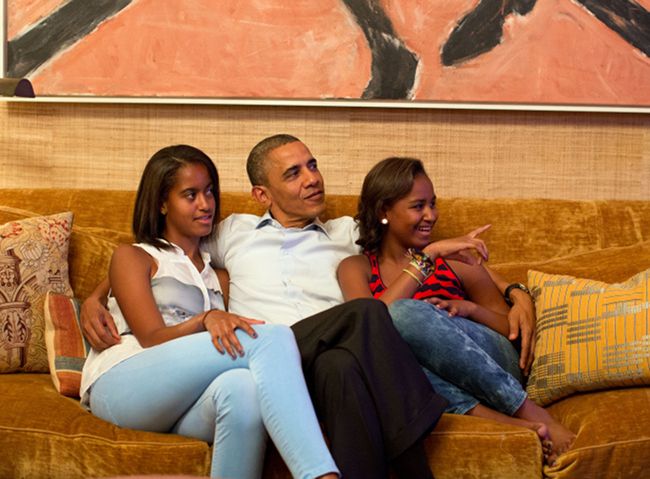 President Obama's team posted a photo of him with his two girls, Sasha & Malia, cheering on mom.  These girls are growing up to be so gorgeous.  Looks like somebody's going to have a couple problems on his hands soon.  By the way, today (Tuesday) was Malia's first day of high school!
In a knee length pink, gold and silver embroidered custom Tracy Reese dress (which showed off her killer arms) with matching pink heels from J.Crew, First Lady Michelle Obama gave her much anticipated DC speech in Charlotte tonight.
Mrs. Obama had the task of giving voters the personal side of her husband, and connecting it to how and why he will work nonstop to fulfill policies he feels are simply right.  Especially because the Obamas truly know first hand and understand the struggle of the middle class.  A few of our fave quotes:
You see, even though back then Barack was a Senator and a presidential candidate…to me, he was still the guy who'd picked me up for our dates in a car that was so rusted out, I could actually see the pavement going by through a hole in the passenger side door…he was the guy whose proudest possession was a coffee table he'd found in a dumpster, and whose only pair of decent shoes was half a size too small. But when Barack started telling me about his family – that's when I knew I had found a kindred spirit, someone whose values and upbringing were so much like mine. 

You see, Barack and I were both raised by families who didn't have much in the way of money or material possessions but who had given us something far more valuable – their unconditional love, their unflinching sacrifice, and the chance to go places they had never imagined for themselves.

…………

Our families weren't asking for much.

They didn't begrudge anyone else's success or care that others had much more than they did…in fact, they admired it.

They simply believed in that fundamental American promise that, even if you don't start out with much, if you work hard and do what you're supposed to do, then you should be able to build a decent life for yourself and an even better life for your kids and grandkids.

……….

He signed the Lilly Ledbetter Fair Pay Act to help women get equal pay for equal work.

That's how he brought our economy from the brink of collapse to creating jobs again – jobs you can raise a family on, good jobs right here in the United States of America.

When it comes to the health of our families, Barack refused to listen to all those folks who told him to leave health reform for another day, another president.

He didn't care whether it was the easy thing to do politically – that's not how he was raised – he cared that it was the right thing to do.

When it comes to giving our kids the education they deserve, Barack knows that like me and like so many of you, he never could've attended college without financial aid.

……

He believes that women are more than capable of making our own choices about our bodies and our health care…that's what my husband stands for.

……

And I didn't think it was possible, but today, I love my husband even more than I did four years ago…even more than I did 23 years ago, when we first met. I love that he's never forgotten how he started. (SOURCE)
Be sure to tune into the Midday's weekly 10am-3pm with RoDigga!
Also On Z 107.9: