This photo from the Newtown Bee shows kids being led away from the horror. [Courtesy of
cnn.com
]
There's been a mass shooting at Sandy Hook Elementary School in Newtown, Connecticut
We're told "close to 20" people are dead, including at least 10 children
Below are the latest updates as they come to us
[Updated at 1:21 p.m. ET] We're now hearing that it may be a while for the briefing from the police.
[Updated at 1:17 p.m. ET] This was the scene from the air earlier, taken by News 12 Connecticut, with emergency vehicles in the school parking lot.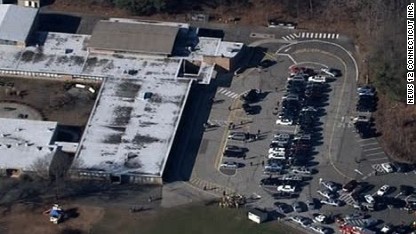 [Updated at 1:09 p.m. ET] The police are set to give a news conference soon where we'll learn more. We'll bring that to you as soon as it starts.
[Updated at 1:07 p.m. ET] Here's the chilling account told to CNN's Meredith Artley of what happened at the school.
[Updated at 12:59 p.m. ET] Many people are talking again about gun control. But White House spokesman Jay Carney isn't joining in for now.
"I think it's important on a day like today to view this as I know the president, as a father does and I as a father and others who are parents certainly do, which is to feel enormous sympathy for families that are affected and to do everything we can to support state and local law enforcement and support those who are enduring what appears to be a very tragic event.  There is, I'm sure, will be, rather, a day for discussion of the usual Washington policy debates but I don't think today is that day.
[Updated at 12:57 p.m. ET] From the News Times reporter at the school:
Libor Jany @ljanyNT

9 y/o girl says that "police with big guns" led her classmates out of the building. Asked them to cover their eyes.
[Updated at 12:48 p.m. ET] "Close to 20" people have been killed, including at least 10 children, a law enforcement source with knowledge of the investigation says.
Read on HERE.
Be sure to tune into the Midday's weekly 10am-3pm with RoDigga!