[Courtesy of cnn.com]
Newtown, Connecticut (CNN) — Major crime investigators from the Connecticut state police on Saturday were combing "every crack and crevice" of Sandy Hook Elementary School in Newtown, a day after a gunman shot dead 20 students and six adults before apparently killing himself.
Authorities have now identified all of those killed in Friday's tragedy, but they are not releasing a formal list of names and birthdates until the state medical examiner has completed his work, said Lt. J. Paul Vance, a state police spokesman.
The investigators are looking inside and outside the school building and at every car in the parking lot, in what Vance called a "long and painstaking process" that will not be completed for at least another day or two.
Law enforcement officials identified the shooter as 20-year-old Adam Lanza, who grew up in the tight-knit community of 27,000. Police say Lanza killed his mother, Nancy, at her Newtown home before going to the school, where he primarily targeted two classrooms of kindergartners and first-graders.
Lanza's motive was unclear Saturday, though Vance said detectives are collecting some "very good evidence" at both the school and his mother's house. He would not say what the evidence includes.
"The detectives will certainly analyze everything and put a complete picture together of the evidence that they did obtain, and we're hopeful — we're hopeful — that it will paint a complete picture as to how and why this entire unfortunate incidence occurred," Vance told a packed crowd of journalists at a Saturday morning news conference.
Lanza forced his way into the school, Vance revealed Saturday, though he wouldn't say how or whether Lanza used weapons to do it.
It's also not clear whether Lanza entered before or after 9:30 a.m., the time each day when the school would lock its doors as part of a security system introduced this year. Authorities say the first emergency call about the shooting came in at "approximately" 9:30 a.m. Friday.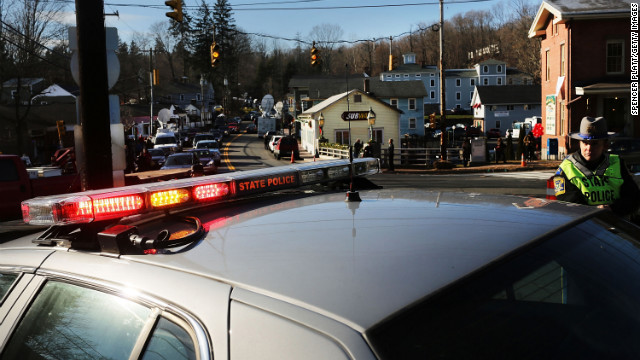 Photos: Connecticut school shooting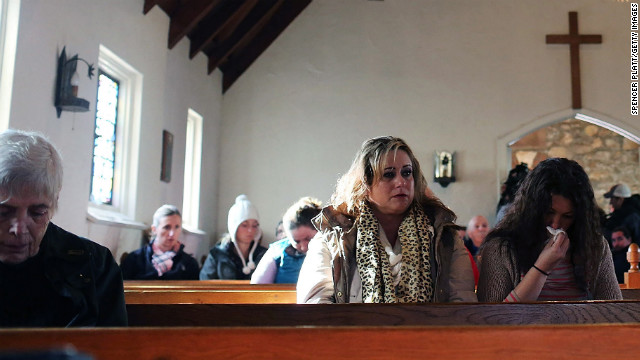 Within minutes, Lanza killed 26 people with chilling efficiency, leaving only one wounded survivor, according to Vance. Among the adults killed were Dawn Hochsprung, the school's beloved principal, and school psychologist Mary Sherlach.
"Stuff like this does not happen in Newtown," said Renee Burn, a teacher at another school in the town, which is roughly 60 miles northeast of New York City.
Until Friday, only one homicide in the past 10 years had been reported in the upscale community of expansive homes surrounded by woods, where many residents commute to jobs in Manhattan and the nearby Connecticut cities of Stamford and Hartford.
Authorities found three guns next to Lanza's body in one of the classrooms, a law enforcement source told CNN. All three — a semi-automatic .223-caliber Bushmaster rifle and two pistols made by Glock and Sig Sauer — were owned by Lanza's mother, the source said.
Investigators know which one Lanza used to kill himself but are not yet revealing that information, the source said.
Lanza also had access to at least three more guns, a second law enforcement source said. Investigators recovered a .45-caliber Henry Repeating Rifle, a .22-caliber Marlin Rifle and a .30-caliber Enfield Rifle, though it's unclear where they were found, the source said.
One of the law enforcement sources said they have information that Lanza tried to buy a gun in the area this past Tuesday. The Bureau of Alcohol Tobacco and Firearms said it is contacting shooting ranges and gun stores in the area to try to establish whether Lanza sought to purchase guns or practice using them.
The number of young victims, between the ages of 5 and 10, sent shock waves across the nation.
With the death toll at 26, the massacre in Newtown is the second-deadliest school shooting in U.S. history, behind the 2007 Virginia Tech mass shooting that left 32 dead.
What really makes schools safer?
[Continue reading here.]
Be sure to tune into the Midday's weekly 10am-3pm with RoDigga!