Source: CNN
When the verdict came, it was as dramatic as anyone could have imagined.
A late Saturday night, a courtroom of breathless people, the accused man standing, and finally the words: "We, the jury, find George Zimmerman not guilty."
Zimmerman blinked and shook hands with his legal team. His mother smiled. His wife cried. It was over.
But outside, the reaction was just beginning. In the crowd milling near the court, some chanted, "No justice, no peace," while others spoke about the disappointment they had dreaded.
An African-American man in a white shirt and gray vest stood with his arm around his young son's shoulders.
"I believe that there is a family whose heart was broken, who probably believes once again the system has failed them," he told CNN's David Mattingly.
"We've been praying for both families because we know that it has been a hard time for everybody that's been involved. But as far as justice … personally, I think that the system failed the Martin family."
Twitter erupted in disbelief.
Cover Drive wrote, "What kind of world do we live in where an innocent is killed, and the killer is found innocent?" Scotty tweeted, "America has given a free pass to murder Black Youth."
A Twitter user by the name Sam Is Dead echoed a common theme among those frustrated with the decision, "Casey Anthony innocent … Zimmerman innocent … Mike Vick guilty… Racism."
Suspected racism in the justice system, deep-seated, secretive and historic, was the crux of the case for millions.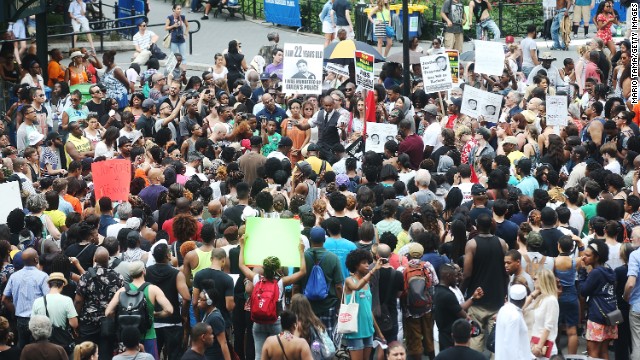 That was what made it a national story, instead of merely a local tragedy.
They did not believe it was just about a 17-year-old named Trayvon Martin being shot on a rainy night.
They believed it was about generations of young black men targeted, stalked, suspected and brutalized by police, security guards, neighborhood watches and courts.
"It's something bigger because Trayvon Martin is all of our sons. He's the son of all people who are African-American and of those who are conscious of what it means to be black in America," said Maurice Jackson, a Georgetown University associate professor of history and African-American studies.
After the verdict, his message was somber.
"I feel for his parents," Jackson said. "This is a sad day for democracy and for justice."
A much harsher statement came around the same time from another professor who studies race at Drexel University in Philadelphia.
"This verdict was prepared from day one," George Ciccariello-Maher said. "From the media campaign of demonizing Martin, to the selection of a nonblack jury, to the instruction not to refer to race … his was the chronicle of an acquittal foretold."
On and on the outrage went.
—-For more information, go to CNN!
Be sure to tune into the Midday's weekly 10am-3pm with RoDigga!