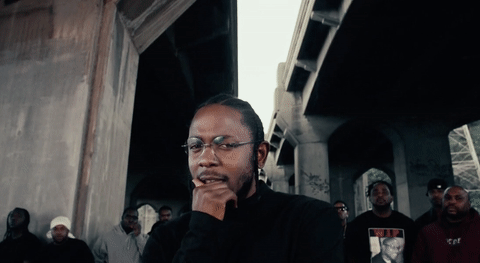 Kendrick Lamar has added few more dates to his The DAMN. Tour and he is bringing fellow Compton rapper YG along for the ride.
Kendrick's tour doesn't start until two months from now, but he's already making some adjustments. The tour was originally set to start on July 12 in Phoenix, Ariz. and end with three dates in Los Angeles from on August 6-9. Now, TDE and Live Nation has announced they are adding 15 more dates to the tour. OHIO is on the list @ Tuesday, August 22, 2017 – Columbus OH @ Schottenstein Center.
While D.R.A.M. will remain on the tour as a co-headliner, Travis Scott will not be on the second leg. Instead, YG will be joining the bill.
Check out the original and new dates below.
Wednesday, July 12, 2017 – Phoenix AZ @ Gila River Arena
Friday, July 14, 2017 – Dallas TX @ American Airlines Center
Saturday, July 15, 2017 – Houston TX @ Toyota Center
Monday, July 17, 2017 – Duluth GA @ Infinite Energy Arena
Wednesday, July 19, 2017 – Philadelphia PA @ Wells Fargo Center
Thursday, July 20, 2017 – Brooklyn NY @ Barclays Center
Friday, July 21, 2017 – Washington DC @ Verizon Center
Saturday, July 22, 2017 – Boston MA @ TD Garden
Sunday, July 23, 2017 – Brooklyn NY @ Barclays Center
Tuesday, July 25, 2017 – Toronto ON @ Air Canada Centre
Wednesday, July 26, 2017 – Auburn Hills MI @ The Palace of Auburn Hills
Thursday, July 27, 2017 – Chicago IL @ United Center
Saturday, July 29, 2017 – Denver CO @ Pepsi Center
Tuesday, August 01, 2017 – Seattle WA @ Tacoma Dome
Wednesday, August 02, 2017 – Vancouver BC @ Rogers Arena
Friday, August 04, 2017 – Oakland CA @ Oracle Arena
Saturday, August 05, 2017 – Las Vegas NV @ T-Mobile Arena
Sunday, August 06, 2017 – Los Angeles CA @ STAPLES Center
Tuesday, August 08, 2017 – Los Angeles CA @ STAPLES Center
Wednesday, August 9, 2017 – Los Angeles CA @ STAPLES Center
Friday, August 11, 2017 – Anaheim CA @ Honda Center
Saturday, August 12, 2017 – San Jose CA @ SAP Center
Sunday, August 13, 2017 – Sacramento CA @ Golden 1 Center
Wednesday, August 16, 2017 – Kansas City MO @ Sprint Center
Friday, August 18, 2017 – Lincoln NE @ Pinnacle Bank Arena
Saturday, August 19, 2017 – St. Paul MN @ Xcel Energy Center
Sunday, August 20, 2017 – Chicago IL @ United Center
Tuesday, August 22, 2017 – Columbus OH @ Schottenstein Center
Wednesday, August 23, 2017 – Toronto ON @ Air Canada Centre
Thursday, August 24, 2017 -vMontreal QC @ Bell Centre
Friday, August 25, 2017 – Newark NJ @ Prudential Center
Tuesday, August 29, 2017 – Charlotte NC @ Spectrum Center
Wednesday, August 30, 2017 – Nashville TN @ Bridgestone Arena
Friday, September 1, 2017 – Tampa FL @ Amalie Arena
Saturday, September 2, 2017 – Miami FL @ American Airlines Arena
– See more at: http://hiphopwired.com/543581/kendrick-lamar-extends-damn-tour-replaces-travis-scott-yg/#sthash.RAoASUIS.dpuf
Also On Z 107.9:
Z1079 Summer Jam 2017 Hottest Photos [Gallery]
100 photos
Launch gallery
1. Z1079 summer jam 2017 @chrisgoody23
Source:@chrisgoody23
1 of 100
2. Z1079 summer jam 2017 @chrisgoody23
Source:@chrisgoody23
2 of 100
3. Z1079 summer jam 2017 @chrisgoody23
Source:@chrisgoody23
3 of 100
4. Z1079 summer jam 2017 @chrisgoody23
Source:@chrisgoody23
4 of 100
5. Z1079 summer jam 2017 @chrisgoody23
Source:@chrisgoody23
5 of 100
6. Z1079 summer jam 2017 @chrisgoody23
Source:@chrisgoody23
6 of 100
7. Z1079 summer jam 2017 @chrisgoody23
Source:@chrisgoody23
7 of 100
8. Z1079 summer jam 2017 @chrisgoody23
Source:@chrisgoody23
8 of 100
9. Z1079 summer jam 2017 @chrisgoody23
Source:@chrisgoody23
9 of 100
10. Z1079 summer jam 2017 @chrisgoody23
Source:@chrisgoody23
10 of 100
11. Z1079 summer jam 2017 @chrisgoody23
Source:@chrisgoody23
11 of 100
12. Z1079 summer jam 2017 @chrisgoody23
Source:@chrisgoody23
12 of 100
13. Z1079 summer jam 2017 @chrisgoody23
Source:@chrisgoody23
13 of 100
14. Z1079 summer jam 2017 @chrisgoody23
Source:@chrisgoody23
14 of 100
15. Z1079 summer jam 2017 @chrisgoody23
Source:@chrisgoody23
15 of 100
16. Z1079 summer jam 2017 @chrisgoody23
Source:@chrisgoody23
16 of 100
17. Z1079 summer jam 2017 @chrisgoody23
Source:@chrisgoody23
17 of 100
18. Z1079 summer jam 2017 @chrisgoody23
Source:@chrisgoody23
18 of 100
19. Z1079 summer jam 2017 @chrisgoody23
Source:@chrisgoody23
19 of 100
20. Z1079 summer jam 2017 @chrisgoody23
Source:@chrisgoody23
20 of 100
21. Z1079 summer jam 2017 @chrisgoody23
Source:@chrisgoody23
21 of 100
22. Z1079 summer jam 2017 @chrisgoody23
Source:@chrisgoody23
22 of 100
23. Z1079 summer jam 2017 @chrisgoody23
Source:@chrisgoody23
23 of 100
24. Z1079 summer jam 2017 @chrisgoody23
Source:@chrisgoody23
24 of 100
25. Z1079 summer jam 2017 @chrisgoody23
Source:@chrisgoody23
25 of 100
26. Z1079 summer jam 2017 @chrisgoody23
Source:@chrisgoody23
26 of 100
27. Z1079 summer jam 2017 @chrisgoody23
Source:@chrisgoody23
27 of 100
28. Z1079 summer jam 2017 @chrisgoody23
Source:@chrisgoody23
28 of 100
29. Z1079 summer jam 2017 @chrisgoody23
Source:@chrisgoody23
29 of 100
30. Z1079 summer jam 2017 @chrisgoody23
Source:@chrisgoody23
30 of 100
31. Z1079 summer jam 2017 @chrisgoody23
Source:@chrisgoody23
31 of 100
32. Z1079 summer jam 2017 @chrisgoody23
Source:@chrisgoody23
32 of 100
33. Z1079 summer jam 2017 @chrisgoody23
Source:@chrisgoody23
33 of 100
34. Z1079 summer jam 2017 @chrisgoody23
Source:@chrisgoody23
34 of 100
35. Z1079 summer jam 2017 @chrisgoody23
Source:@chrisgoody23
35 of 100
36. Z1079 summer jam 2017 @chrisgoody23
Source:@chrisgoody23
36 of 100
37. Z1079 summer jam 2017 @chrisgoody23
Source:@chrisgoody23
37 of 100
38. Z1079 summer jam 2017 @chrisgoody23
Source:@chrisgoody23
38 of 100
39. Z1079 summer jam 2017 @chrisgoody23
Source:@chrisgoody23
39 of 100
40. Z1079 summer jam 2017 @chrisgoody23
Source:@chrisgoody23
40 of 100
41. Z1079 summer jam 2017 @chrisgoody23
Source:@chrisgoody23
41 of 100
42. Z1079 summer jam 2017 @chrisgoody23
Source:@chrisgoody23
42 of 100
43. Z1079 summer jam 2017 @chrisgoody23
Source:@chrisgoody23
43 of 100
44. Z1079 summer jam 2017 @chrisgoody23
Source:@chrisgoody23
44 of 100
45. Z1079 summer jam 2017 @chrisgoody23
Source:@chrisgoody23
45 of 100
46. Z1079 summer jam 2017 @chrisgoody23
Source:@chrisgoody23
46 of 100
47. Z1079 summer jam 2017 @chrisgoody23
Source:@chrisgoody23
47 of 100
48. Z1079 summer jam 2017 @chrisgoody23
Source:@chrisgoody23
48 of 100
49. Z1079 summer jam 2017 @chrisgoody23
Source:@chrisgoody23
49 of 100
50. Z1079 summer jam 2017 @chrisgoody23
Source:@chrisgoody23
50 of 100
51. Z1079 summer jam 2017 @chrisgoody23
Source:@chrisgoody23
51 of 100
52. Z1079 summer jam 2017 @chrisgoody23
Source:@chrisgoody23
52 of 100
53. Z1079 summer jam 2017 @chrisgoody23
Source:@chrisgoody23
53 of 100
54. Z1079 summer jam 2017 @chrisgoody23
Source:@chrisgoody23
54 of 100
55. Z1079 summer jam 2017 @chrisgoody23
Source:@chrisgoody23
55 of 100
56. Z1079 summer jam 2017 @chrisgoody23
Source:@chrisgoody23
56 of 100
57. Z1079 summer jam 2017 @chrisgoody23
Source:@chrisgoody23
57 of 100
58. Z1079 summer jam 2017 @chrisgoody23
Source:@chrisgoody23
58 of 100
59. Z1079 summer jam 2017 @chrisgoody23
Source:@chrisgoody23
59 of 100
60. Z1079 summer jam 2017 @chrisgoody23
Source:@chrisgoody23
60 of 100
61. Z1079 summer jam 2017 @chrisgoody23
Source:@chrisgoody23
61 of 100
62. Z1079 summer jam 2017 @chrisgoody23
Source:@chrisgoody23
62 of 100
63. Z1079 summer jam 2017 @chrisgoody23
Source:@chrisgoody23
63 of 100
64. Z1079 summer jam 2017 @chrisgoody23
Source:@chrisgoody23
64 of 100
65. Z1079 summer jam 2017 @chrisgoody23
Source:@chrisgoody23
65 of 100
66. Z1079 summer jam 2017 @chrisgoody23
Source:@chrisgoody23
66 of 100
67. Z1079 summer jam 2017 @chrisgoody23
Source:@chrisgoody23
67 of 100
68. Z1079 summer jam 2017 @chrisgoody23
Source:@chrisgoody23
68 of 100
69. Z1079 summer jam 2017 @chrisgoody23
Source:@chrisgoody23
69 of 100
70. Z1079 summer jam 2017 @chrisgoody23
Source:@chrisgoody23
70 of 100
71. Z1079 summer jam 2017 @chrisgoody23
Source:@chrisgoody23
71 of 100
72. Z1079 summer jam 2017 @chrisgoody23
Source:@chrisgoody23
72 of 100
73. Z1079 summer jam 2017 @chrisgoody23
Source:@chrisgoody23
73 of 100
74. Z1079 summer jam 2017 @chrisgoody23
Source:@chrisgoody23
74 of 100
75. Z1079 summer jam 2017 @chrisgoody23
Source:@chrisgoody23
75 of 100
76. Z1079 summer jam 2017 @chrisgoody23
Source:@chrisgoody23
76 of 100
77. Z1079 summer jam 2017 @chrisgoody23
Source:@chrisgoody23
77 of 100
78. Z1079 summer jam 2017 @chrisgoody23
Source:@chrisgoody23
78 of 100
79. Z1079 summer jam 2017 @chrisgoody23
Source:@chrisgoody23
79 of 100
80. Z1079 summer jam 2017 @chrisgoody23
Source:@chrisgoody23
80 of 100
81. Z1079 summer jam 2017 @chrisgoody23
Source:@chrisgoody23
81 of 100
82. Z1079 summer jam 2017 @chrisgoody23
Source:@chrisgoody23
82 of 100
83. Z1079 summer jam 2017 @chrisgoody23
Source:@chrisgoody23
83 of 100
84. Z1079 summer jam 2017 @chrisgoody23
Source:@chrisgoody23
84 of 100
85. Z1079 summer jam 2017 @chrisgoody23
Source:@chrisgoody23
85 of 100
86. Z1079 summer jam 2017 @chrisgoody23
Source:@chrisgoody23
86 of 100
87. Z1079 summer jam 2017 @chrisgoody23
Source:@chrisgoody23
87 of 100
88. Z1079 summer jam 2017 @chrisgoody23
Source:@chrisgoody23
88 of 100
89. Z1079 summer jam 2017 @chrisgoody23
Source:@chrisgoody23
89 of 100
90. Z1079 summer jam 2017 @chrisgoody23
Source:@chrisgoody23
90 of 100
91. Z1079 summer jam 2017 @chrisgoody23
Source:@chrisgoody23
91 of 100
92. Z1079 summer jam 2017 @chrisgoody23
Source:@chrisgoody23
92 of 100
93. Z1079 summer jam 2017 @chrisgoody23
Source:@chrisgoody23
93 of 100
94. Z1079 summer jam 2017 @chrisgoody23
Source:@chrisgoody23
94 of 100
95. Z1079 summer jam 2017 @chrisgoody23
Source:@chrisgoody23
95 of 100
96. Z1079 summer jam 2017 @chrisgoody23
Source:@chrisgoody23
96 of 100
97. Z1079 summer jam 2017 @chrisgoody23
Source:@chrisgoody23
97 of 100
98. Z1079 summer jam 2017 @chrisgoody23
Source:@chrisgoody23
98 of 100
99. Z1079 summer jam 2017 @chrisgoody23
Source:@chrisgoody23
99 of 100
100. Z1079 summer jam 2017 @chrisgoody23
Source:@chrisgoody23
100 of 100