If you heard the rumor that Wale asked a female twitter fan via DM if he could eat her "lotus flower bomb," rest assured that it was the work of a Twitter impersonator and photoshopped tweets.  Now, Wale has lashed out and put his impersonator on blast.  See their exchange inside….
Wale got upset recently when a fake Twitter exchange between he and a female fan went viral.  During the exchange, the "Wale" account asked the fan if he could eat her "lotus flower bomb."  "He" then goes onto explain that LFB is booty.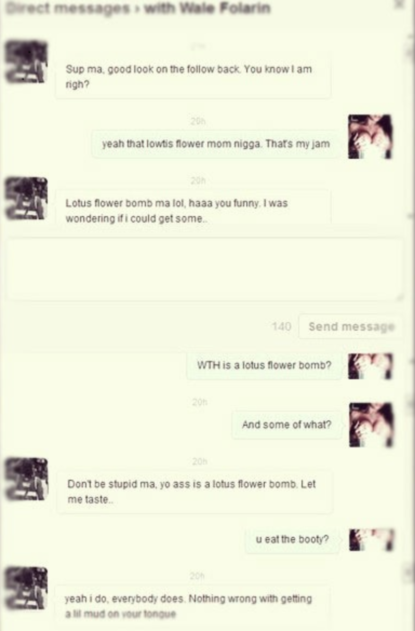 This got Wale really pissy so he posted a number of screenshots and exchanges to explain he was being impersonated by a fake twitter account and that he never made those comments.  And showed how the twitter liar admitted to photoshopping the tweets to make it seem like Wale sent them.  He said, "Sad thing is people do shit like this and niggas believe it."
(Click the pic to view full size)
But some fans took issue with Wale's approach to blasting the impersonator and this got Wale even more angry.
He responded by tweeting,
Two wrongs don't make a right but.. I'm not here to be righteous .. I'm fortunate enuff to have a team of niggas for shit like this
And for those who think his behavior was childish, he added,
We all petty .. And im immature too RT @prissperry: the fact that @wale admitted he's petty…pretty much makes him a winner in my book.
Did he go overboard?  Or was it warranted?
In case you forgot the rant she dished out to Rosa, check it out below: