"Climax" singer Usher recently tweeted pics of his heavenly body while responding to a recent Twitter death hoax.
Oh…hey Usher's pecs.  It's been a while.  As Usher tweeted sexy pics of his body (while he prepares his upcoming LP Looking For Myself), he proved to fans that he is indeed ALIVE!
The R&B/pop fella was a victim of an internet death hoax yesterday that claimed he died in a car crash.  So he tweeted: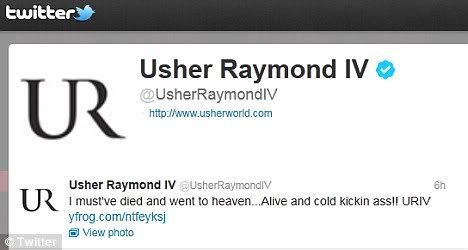 And he added….
This is ridiculous.  I don't know what folks get out of internet death hoaxs but it's just like yelling Fire "just because" in a crowded room. Until the Feds make it a crime, this may get even more out of hand.