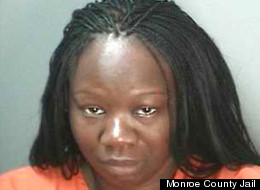 Sadly, this child really did live up to her mother's expectations.
A suspect named Fellony was arrested and charged with felony battery on Sunday after a wild bar attack left a woman with cuts and bruises.
Fellony Silas, 30, allegedly smashed a glass on a woman's forehead inside an Indiana bar, the Smoking Gun reported.
The 24-year-old victim told cops that she had bumped into Silas while the two were dancing, the Indiana Daily Studentreported. The two started arguing, and that's when the alleged felonious attack began.
The whole thing wreaked of Fellony, cops said.
Silas was collared and taken to jail, while the bloodied victim went to the hospital.
Unfortunately for Silas, she'll always have a Fellony on her record — whether or not she's convicted of a crime.
Also On Z 107.9: