Nicki does not play when it comes to her "lool" but can you blame her? Better yet…ladies, would you rock this look? – RoDigga!
Rapper Nicki Minaj was spotted leaving her hotel in London earlier today in her neon candy coated look.   
Billboard's "Top Female Artist" nominee, Nicki Minaj, stepped out of the W Hotel in a bright multi-colored sleeveless top, neon yellow mini skirt and matching neon yellow stockings and fuzzy legwarmer booties.  
The colorful "Beez In The Trap" rap chick revealed this week, during her interview with Graham Norton, that "a voice" in her head told her to delete her twitter….so she did.  Of course.  But she says she's "thinking about returning abnd hope her 11 million Barbz will wait.  Of course.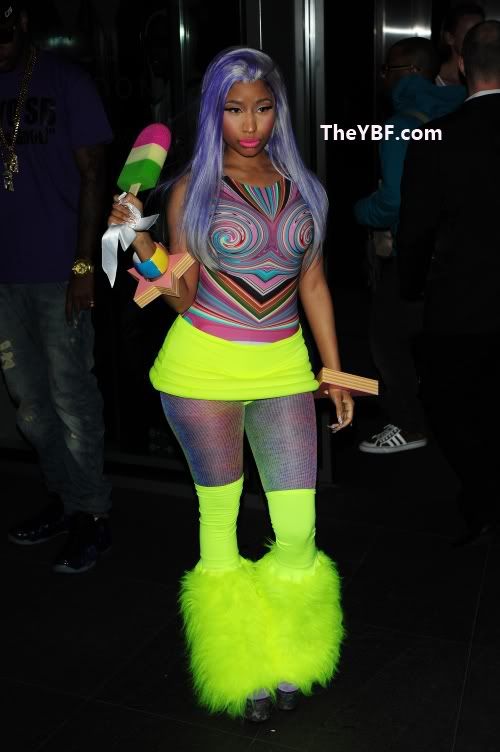 Nicki, who's soon launching her own fragrance, carried a lollipop to complete the look.  Guess she was inspired.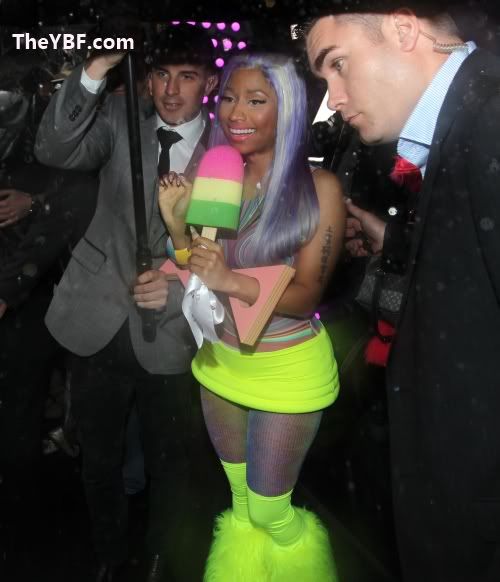 Be sure to tune into the Midday's weekly 10am-3pm with RoDigga!
Facebook Main: ro.digga
Facebook 2: rodigga2
Twitter: @RoDigga
Instagram: @RoDigga