Rihanna was a vision in gold as she channeled Cleopatra for her performance of "Where Have You Been" at the Robin Hood Foundation gala in NYC.
Ri Ri commanded audiences at the Jacob Javits Center backed by an entourage of dancers who were dressed in similar costumes. After a full dance routine and song, Ri Ri later hit the club in a less salacious outfit!
The Robin Hood Foundation helps fight poverty in New York City.
Spotted @Rap-Up
Like z1079 on Facebook to stay updated with the latest entertainment news and original interviews!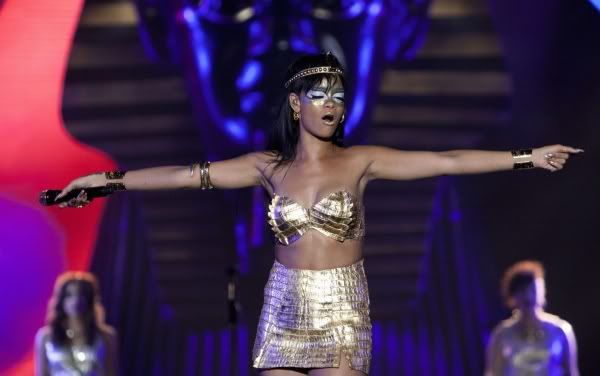 RELATED CONTENT: EPIC RAP BATTLE: Marilyn Monroe vs. Cleopatra [VIDEO]
RELATED CONTENT: Rihanna Shows Off Reptilian Breasts [PHOTOS]
RELATED CONTENT: Rihanna Autographs "Battleship" Game For Fan [PHOTO]
Rihanna Channels Cleopatra For Charity Event [VIDEO]  was originally published on theurbandaily.com