Did they say "Role Models"? Do you agree?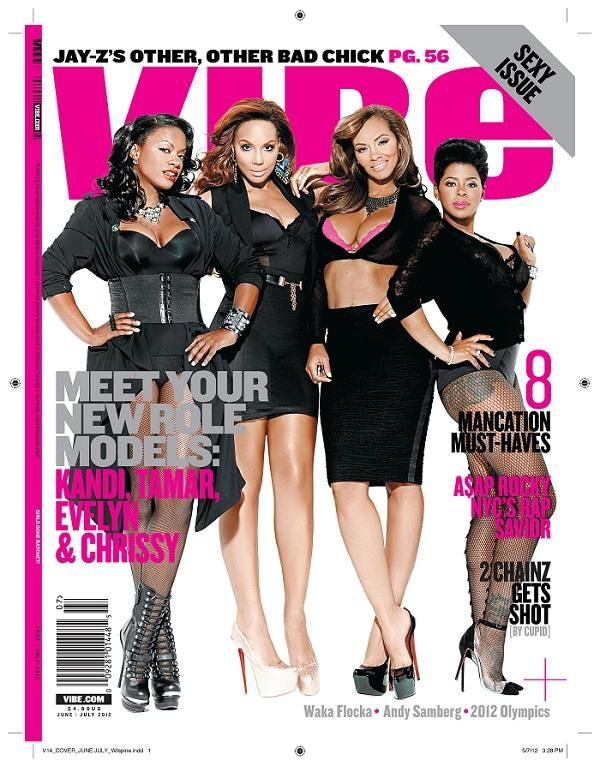 Whether they are good role models or bad ones, that's the title VIBE magazine gave these reality chicks.  For the June/July 2012 SEXY ISSUE, the most vocal, most feisty (which we guess makes them sexy to some) female reality stars are the cover subjects.
Check out Kandi Burruss, Tamar Braxton, Evelyn Lozada & Chrissy Lampkin showing their sexy sides and talking ish (especially about Star Jones' petition to get negative fighting chicks off tv)….
After seeing these four have some TITilating play time behind the scenes of this shoot, you can guess they won't be scared to speak their minds about anything they're asked about.  Who needs tact anyway?
"Real Housewives of Atlanta" star Kandi, "Braxton Family Values" star Tamar, "Basketball Wives" star Evelyn and "Love & Hip Hop" former (allegedly she won't be returning) star Chrissy all got chummy for the sexy cover shoot.  No fighting, but lots of ish talking.  Especially with Chrissy calling out producers for being the cause of the fighting.  And Evelyn saying that nobody gives a f*ck about Star Jones.  WOMP.  Here are the highlights:
VIBE: Star Jones started a petition,lashing out against women and violence on reality TV. What's your reaction?

Evelyn: [Bursts into laughter] I think she's going to have to get a whole lot of names. Actually, I like the petition and I like the controversy because I've learned controversy is good. But I think she's irrelevant. And she's using our coattails to get relevant again. Nobody gives a fuck about her.

Do any of you see yourselves as role models?

Chrissy: I guess if somebody is afraid to speak their mind and wanna stand up for themselves, then yes. I want people to realize that they can have whatever they want. You can be respected in your relationship exactly the way you want to be. It's up to you to go get it. Some of the stuff is a little heavy, but you're not going to be exposed to crazy situations in life just by watching reality TV. You can go to the corner store and see crazy shit going on. You can go to school and see crazy shit.Don't put it all on me.

Kandi: You would never imagine how many people come up to me on the street: "How could you be a part of that? It's a disgrace to Black people." I'm on a show called Real Housewives and I'm not married so I guess I represent single mothers out there who are handling their business and trying to take things to the next level. So when people say, "You shouldn't be on the show, it's like, "Well, who do you want to go on there? More people you don't like?"

So you're saying the producers orchestrated the violence?

Chrissy: Absolutely. They would go as far as telling the new girl, "Chrissy thinks she's Queen Bee around here so we need you to step up because nobody here has a strong enough personality. We need you to shut it down." They were feeding people this negative energy from the door. I have no reason to lie.
Check out the full cover story over at VIBE.  The issue hits stands next week.
Like z1079 on Facebook to stay on top of your favorite black celebrities
Be sure to tune into the Midday's weekly 10am-3pm with RoDigga!