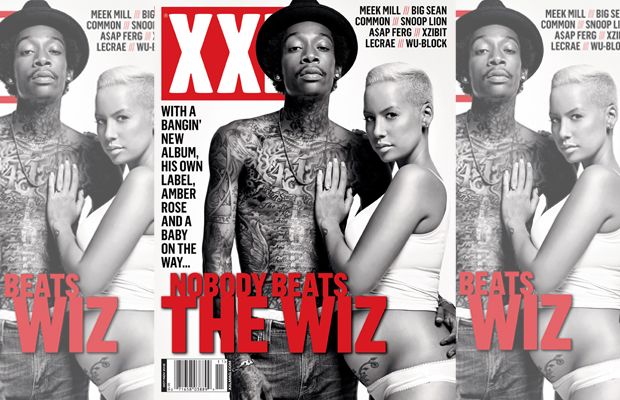 Rapper Wiz Khalifa and his 28-year-old model fiancee Amber Rose just gave their unborn baby its first cover shoot.  Check out the couple covering the October 2012 issue of XXL magazine inside, and dishing on their all natural no-medicine water birth plans…
In the October/November issue of XXL mag, Pittsburgh's golden boy is covering the pages with his own tattoo covered body and his fiance Amber Rose.  Oh, and Amber's uncovered baby bump.
The 25-year-old "Work Hard, Play Hard" rapper has been extra vocal about the love for his gal, and vice versa, so it's no surprise he's touting her on magazine covers with him while he does promo for his upcoming O.N.I.F.C. album.  Inside the cover story, the two gush about their love for each other, the no-medicine water birth Amber plans to have, and Wiz moving his recording sessions to his house just to care for his woman and his baby-on-the-way. Isn't that…special.
Here's a few highlights from the interview…
Wiz On Getting Together With Amber:

"I love my baby. She's gorgeous and it makes me look even cooler when I show how much I love her to other people… When I met Amber, she loved me for who I was. I had some money, but it was like to pay my bills and literally set myself up for a future. But I was wearing the same camo shorts and high-tops and Chucks. But she liked my swag and she liked me for who I was and I wasn't afraid of that… She didn't wanna date any entertainers or anybody in the business. She didn't know who she wanted to be with, but she knew who she didn't wanna be with."

Wiz On Recording His New Album With Amber At Home:

"I just gotta do it. The most important thing is knowing that she is there and I have to tend to my babies. This is my first child ever in life. I gotta go hard at everything. As hard as I go in the studio, I gotta go just as hard taking care of my baby and making sure she's alright, and I'm spending time with her and she doesn't feel neglected."

Amber On Giving Birth:

"I'm so ready. I'm going all-natural. I've decided that I'm going to have an all-natural water birth. No medicine. I want those bragging rights! The next time Wiz has a stomachache or anything, I'll say, 'I popped out a baby all-natural.'"

Amber On Wiz:

"[H]e's just a genuine sweet guy. And that's what made me fall in love with him. And I just said, "You know what, I don't care if he's a rapper." I don't care if people say, "Oh, you're a gold-digger." I don't care if people say, "Oh, you went from one rapper to another," or whatever. I love him. I don't look at him as a rapper. I look at him as Cameron Thomaz, not even Wiz Khalifa. I just fell so deeply in love with him, I didn't care what anyone says."
The twosome do seem happily in love.  Amber's due early 2013.  Congrats again! SOURCE
Be sure to tune into the Midday's weekly 10am-3pm with RoDigga!