[Courtesy of Cnn.com]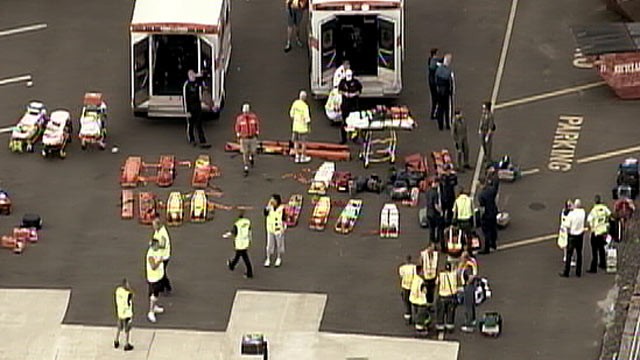 There's been a mass shooting at Sandy Hook Elementary School in Newtown, Connecticut
We're told there are 18-20 children who have been killed, with a death toll close to 30
Law enforcement tells CNN suspect is named Ryan Lanza
Below are the latest updates as they come to us or you can read our story of the Connecticut school shooting
[Updated at 2:11 p.m. ET] CNN's Susan Candiotti has just reported that a law enforcement official tells her the suspect is named Ryan Lanza and he is in his 20s.
[Updated at 2:09 p.m. ET] We're hearing even more devastating news out of Newtown, Connecticut. CNN's Susan Candiotti has been told that 18 to 20 of the dead are children.
[Updated at 2:07 p.m. ET] CNN's Jessica Yellin is reporting that we're likely to hear from President Obama today on the school shooting, according to a senior administration official. We don't know when or where we may hear from President Obama.
[Updated at 2:04 p.m. ET] Lisa Procaccini, the parent of an 8-year-old at the school, tells CNN that her daughter said school officials kept her calm during the shooting and told her the loud noise was hammering going on.
Eventually police came in and let her daughter and her teacher leave the school building.
"I'm even kind of numb about what's going on," she told CNN's Wolf Blitzer. "I'm in a state of shock. I don't know how Im going to handle having [my daughter] know … about the whole situation.""I
[Updated at 1:57 p.m. ET]  The death toll is closer to 30 than 20, a federal law enforcement source in Washington told CNN's John King.  Most of those killed are children, the source said.
The source also said the suspected gunman, who is dead, had a connection to the school. He would not elaborate on that connection. The source is in touch with authorities on the scene.
[Updated at 1:53 p.m. ET] Congresswoman-elect Elizabeth Esty, who was recently won a seat representing a district that includes Newtown, Connecticut, just released the following statement on the tragedy:
As a mother, I can only begin to imagine what the students, parents, teachers and staff of Sandy Hook Elementary must be experiencing. My thoughts and prayers go out to everyone impacted by this horrific tragedy. While details are still emerging, I hope for the safety and well being of the children, teachers and staff at Sandy Hook Elementary and for the Newtown community.
[Updated at 1:51 p.m. ET] We have just learned that the suspected shooter is 20-years-old, a law enforcement source with knowledge of the investigation tells CNN's Susan Candiotti.
[Updated at 1:47 p.m. ET] A few more details from the White House press briefing earlier. White House spokesman Jay Carney said while today is not the day to debate gun policy, an assault weapons ban "does remain a commitment" of President Obama.
[Updated at 1:45 p.m. ET]  We are now learning that a male is being questioned by investigators, but he is not being called a suspect, CNN's Susan Candiotti reports.
[Updated at 1:42 p.m. ET] Connecticut State Police Lt. Paul Vance said the shooter is dead inside the school.
Libor Jany @ljanyNT

State police PIO Lt. Paul Vance: "The shooter is deceased inside the building."
Vance said there are a number of fatalities that includes both children and adults. He did not add more details about how many people were killed during the school shooting.
[Updated at 1:41 p.m. ET] Police have now begun their briefing on the shooting.
[Updated at 1:32 p.m. ET] We're hearing more from the scene of the massacre through tweets and interviews.
Rep. John Frey @johnfrey

According to my sister, teachers @ Sandy Hook school handled situation incredibly well.
[Updated at 1:23 p.m. ET] President Obama has spoken to FBI Director Robert Mueller and Connecticut Gov. Dan Malloy to get the latest information and express his condolences, White House spokesman Jay Carney said.