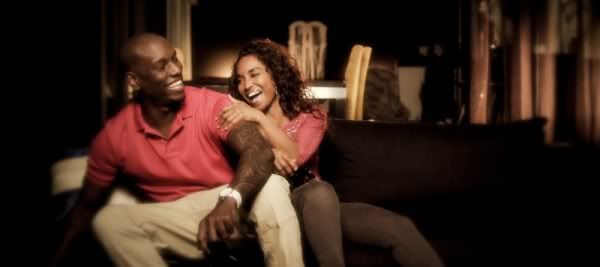 Tyrese has released a teaser for his "Nothing On You" video off his Open Invitation disc. The video stars TLC's Chilli as his love interest and features her feeding him exotic fruits.  With a story line that paints a vivid picture of love and of a man assuring his woman there is no one else for him, there couldn't have been a more perfectly appropriate premiere date for the video than Valentine's Day, February 14, 2012.
Talking about his co-star, Tyrese said,
"Sexy, smart, classy , grace and integrity doesn't come easy all in one woman these days. When Chilli agreed to do my "Nothing On You" video, I just knew it would be special. The wait is over – on
Valentines Day, through this song and video we're gonna remind you of what grown and sexy love is all about."
And Chilli said,
"Working with Tyrese, didn't feel like work at all. There was so much chemistry between us, everything flowed naturally.  Tyrese has such a beautiful voice and when you hear "Nothing on You" it just makes you want to embrace LOVE. I'm so proud of Tyrese's accomplishments, he's so talented…music, movies, books-(and we certainly can't forget those breath-taking features) and there's still so much more to come from him."
Tyrese also dropped a not to his fans saying,
A NOTE FROM TYRESE:
Because of you, 2011 has been the best year of my life in all aspects
of my career.  "Stay" has been #1 Single for 11 weeks and "Open
Invitation" was #1 for two weeks independent!!  My films,
"Transformers DOTM" and "Fast Five," have both now grossed well over
$1.7 billion worldwide.  I STILL can't wrap my head around the success
from my first venture as an author with my motivational/inspirational
memoir and New York Times Best Selling Book, "How to Get Out of Your
Own Way."  As always, l humbly thank you for the love and support you
have shown me this past year.
My "Open Invitation RELOADED" album is going to be re-released on
February 14, Valentine's Day, on iTunes (LP version) which includes
videos, behind the scenes footage, bonus material and unreleased
tracks:  "Fireworkz" Remix featuring Big Sean, T.I., and Busta Rhymes,
"What Took You So Long," and the "Stay" Remix featuring Faith Evans.
MAKE SURE YOU GET IT!!
Respectfully,
President and CEO of Voltron Recordz
Tyrese Gibson
Watch the video teaser here: