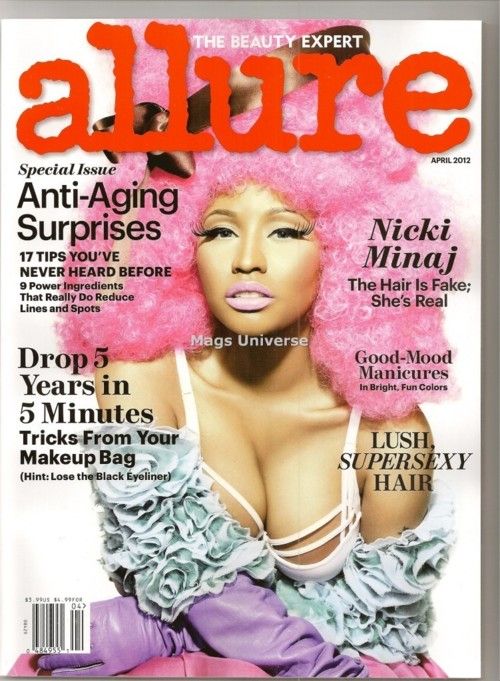 "Superbass" rapper Nicki Minaj is decked out in her frills, ruffles and tulle for the new ALLURE issue.  The cover has been floating arond for weeks in a blurry low-res format, but now the higher quality pic has been released.
The MAC Viva Glam rep revealed her usual amount of boobage and her fave pink lipstick while yacking it up about keeping off the pounds and going for Jay-Z's spot:
On dethroning Jay-Z: "I never thought about music as just being the end-all, be-all. I always looked at it like a business, something that I could create an empire out of…. I had a little conversation with Jay-Z at the Victoria's Secret fashion show. He said, 'Congratulations on all your success.' And I was like, 'Yeah, I'm coming for you. I'm coming for your spot, Mr. Mogul.'"
On exercising: "I'm naturally petite, but I definitely struggle with keeping those extra pounds off. And I hate working out. I can't stand being on a treadmill. That mentally irks me. When I need to lose a few, I just cut out sugar and starch."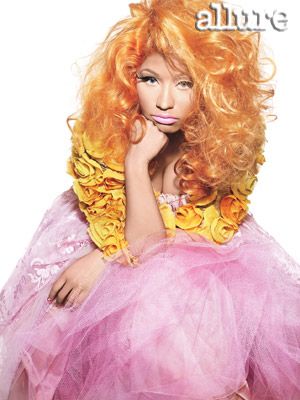 The colorful issue hits stands March 20th.  Check out Nicki's style timeline over at ALLURE.
So for the fellas…