Marcus Cooper, AKA Pleasure P has a new song called "I Love Girls." I've tried to ignore it all day, but I can no longer let this man think it's okay to be an alleged child molester and sing about loving girls. So, The Word Eye Heard Presents: 5 Reasons Pleasure P Should NEVER Title a Song "I Love Girls."
1. Your Name is Pleasure P.
What's the P stand for, "Pedophile?" Can you imagine the endless number of jokes that will follow you performing "I Love GIRLS" for Spellman College or at a Girl Scouts induction? You remember what Spellman did to Nelly for his "Tip Drill" video? Imagine what they would do to someone who was never as significant as him!
2. You're Already Making Yourself Look Guilty
The lyrics to this song read like R. Kelly's sex tape transcript.
"I like skinny girls with them A cups/ Long legs with them little bitty butts."
Really?? So you're just going to admit out loud that you enjoy looking at 4th graders?? And it doesn't help that you're chanting in the hook "I love girls, I love girls, I love girls so much…."
Check out the song below. Tell me I'm lying…
3. Your Denial Sounds Like Michael Jackson, and Some White People Still Haven't Forgiven Him.
Let's be real: Trey Songz is about the only true R&B artist left, so you're going to have to go pop. And if white people don't forgive you, there is no chance of you making any money. I mean, listen to him, talking about "I don't tell my business…." You don't have to tell your business; the courts did it for you.
He went on to say:
"All of the recent rumors and accusations that are being circulated about me are 100% false. "They are disgusting and vile; and they are being spread by individuals with their own sick agendas.""
The Wheard: AllHipHop
White people hated Michael Jackson until he died, and then after. Don't you make that mistake of gaining the hatred of white people; who you think runs the Illuminati?
4. You're Not as Good a Songwriter as R. Kelly
We all saw the tape. R. Kelly likes to use prepubescent girls as a toilet. And don't give me that shit about it being his brother or Avant; it was Robert Kelly, Mr. "I Believe I Can Fly." But you know why people forgave him? In the middle of the accusations and media whirlwind, he dropped Double Up, one of the hardest albums of the year. His writing was on point, and he had features from everyone from Nelly to Snoop Dogg to Chamillionaire.
THEN…Kells went a step further and dropped 3,478 chapters of "Trapped in the Closet." Who cared about the 8th grader he made pee on the floor; what was going to happen with the midget, pastor, and the wife?
Pleasure…you neither have the budget nor the writing skills it takes to compose another Double Up. So don't let a song called "I Love Girls" be your version of OJ Simpson's book "If I Did It."
And there's no defense for molesting a 4 year old. EVER. At least R. Kelly had a defense:
5. YOU'RE AN ALLEGED CHILD MOLESTER!!!
Where do I start….? You were allegedly kicked out of Pretty Ricky for molesting your niece and nephew when you were 16. Those records were sealed, but your lawyer's daughter leaked the court documents because you never finished paying her dad…?
These are the alleged court documents saying that Marcus Cooper (Pleasure P) can't be around children. ("The Client" is the minor):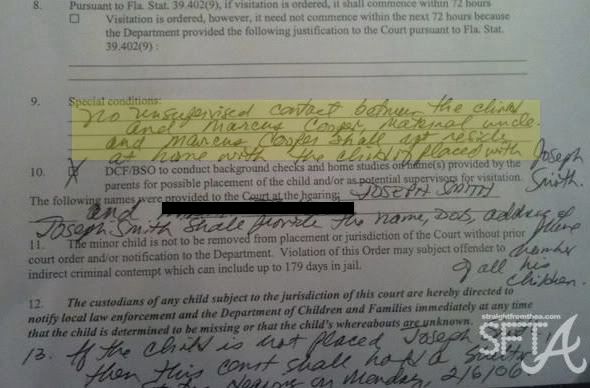 No unsupervised contact between the client and MARCUS COOPER, maternal uncle and MARCUS COOPER shall not reside at home with the client if placed with Joseph Smith
But it gets worse. The mother of "the client" from above spoke out and said the allegations are 100% real!
The Wheard: WSHH
So let's get this straight: you're an alleged child molester, and you thought your first single after the documents came out should be "I Love Girls???" Aye dog, you, R. Kelly, Jerry Sandusky, and that dude from "America's Best Dance Crew" all need to be castrated.
I'm lilD, and that's the Word Eye Heard. Now go listen to a Pretty Ricky album and try not to vomit at the thought.
via TheWordEyeHeard
Check out lilD's #WordEyeHeard Radio Sat 9am-12/Sun 10am-1!
Facebook: TheWordEyeHeard
Twitter: @TheWordEyeHeard
http://www.TheWordEyeHeard.com