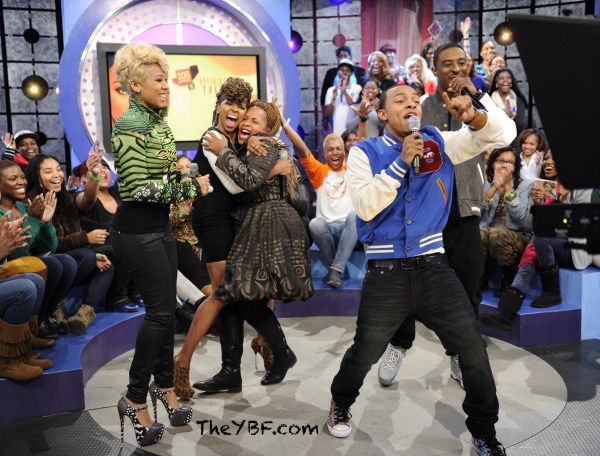 It was all smiles and surprises on yesterday's "106 & Park".  Keyshia Cole hit the show to talk about her brand new album Woman To Woman on shelves now.  And original '106' host Free stopped by to say wassup to the newbies.
Rocking leather Current Elliot pants, a green printed Mary Katrantzou jacket and black & white Louboutins, Keyshia Cole rolled to "106 & Park" to push her new album.  She chatted up hosts Miss Mykie & Bow Wow before Free came out to surprise everybody.
Loves it.  BET exec Stephen Hill got in on the love.
So did host Paigion who just returned from Rihanna's 7-7-7 tour and her man & co-host Shorty Da Prince.
One thing about Keyshia, she knows how to turn on the gorgeous factor.  If only her reputation and attitude matched.
Check out Key Key dishing about her new LP below:
[Source]
Be sure to tune into the Midday's weekly 10am-3pm with RoDigga!