Ok…so you might have heard about your favorite "trio" playing tag in Paris over these last couple of days. You already know Chris Brown has been in Paris performing and Rihanna had no shame in  flaunting her time spent with him there. Rihanna flights back to LA and Voila…Karrueche's in Paris! So what happened next?
[Details courtesy of Theybf.com]
Supposedly Rihanna got wind of Karrueche in Paris (as seen in the pics below):
And this one particular picture right here…(what looks to be Chris all up on Karruche's booty)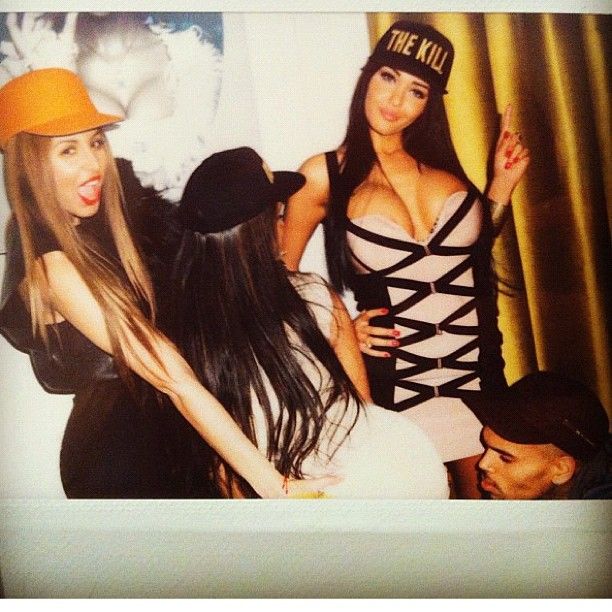 Sends Rihanna in a rant on Twitter (the same tweet that she  supposedly deleted smh):
'Examine what you tolerate', 'Goodbye muthaf*****', 'You give, you get, then you give it the f*** back' and 'Claps for the basic b******'.
It's pretty clear who THAT'S about.  She later posted the  pic of herself in what seems to be Chris' arms saying:
'Damn……. I miss my nigga #thuglife #BFFlife'.

Then…your girl Rihanna hops on a flight to Paris sharing this pic & message with us…

"Risky business #paris".

Yeah, I bet! Karrueche, Chris Brown and now Karrueche all in the same neighborhood? This shall get interesting!

But for real, Rihanna's back in Paris doing a little performance of her own as she held down the Finale of X-Factor UK. Take a look at her performance and stay tuned for whatever happens next! Lol
Be sure to tune into the Midday's weekly 10am-3pm with RoDigga!