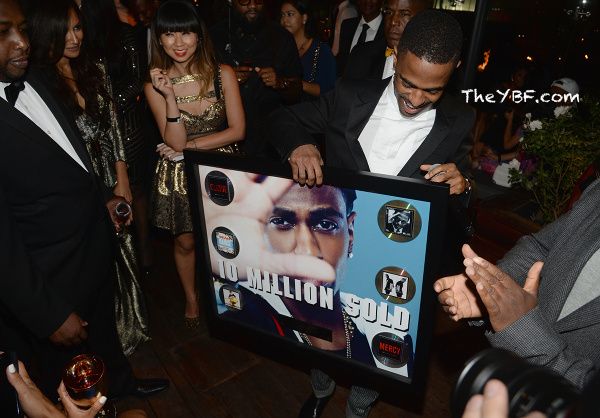 After a 24 hours where Big Sean released what may be the most-discussed song of 2013 in "Control" the Detroit, Michigan emcee was at The London West Hollywood Hotel last night (August 13) to accept an award from his label.
Def Jam Records, who with G.O.O.D. Music, has been the label home to Big Sean for over two years, presented the Finally Famous star with an award for selling 10 million singles.
"I appreciate everybody for coming out tonight. It was an awesome night for me, celebrating Hall Of Fame  coming out in two weeks. I hadn't realized I sold 10 million singles," said the guest of honor. Also in attendance was Thug Life's Mopreme Shakur, label-mate and Epic Records hopeful Gilbrere Forte, in addition to HipHopDX staff.
Top-selling Big Sean singles include platinum-selling  "Dance Remix (A$$)  with Nicki Minaj, "Clique" with Jay Z and Kanye West, and "Mercy" with G.O.O.D. affiliates 2 Chainz, Pusha T, and the aforementioned West. Additionally, Sean has two additional gold singles from his 2011 Finally Famousdebut in "My Last"  with Chris Brown, and " Marvin & chardonnay"  with 'Ye and Roscoe Dash.
Via HipHopDx
Be sure to tune into the Midday's weekly 10am-3pm with RoDigga!