Man…do you know the kind of sweat you can get jumping rope!
Even the greats jumped rope! Photo Cred – Getty Images 
Source | HuffingtonPost
Forget any association you had with jump ropes and gym class. The jump rope is a powerful workout tool. It builds cardio fitness, balance, agility and bone strength. It's also one of the best go-anywhere fitness accessories, fitting easily into even a crammed carry-on.
[Here's a couple of Jump Rope routines you can do to stay fit]
High-Speed Circuit
Fitness competitor, former ballerina and coach Dom Spain teaches outdoor bootcamp classes in Miami. She calls jump rope workouts the "no excuses" workout because, "if I have clients that say they don't have time or don't have the money for a gym membership, they can always do this."
This workout is designed to give you just enough rest to keep pushing through all of the exercises, but not enough to let things get easy. It can be done in 30 minutes and requires only a jump rope.
Warm up by doing 30 seconds of jumping rope, 30 seconds of air squats, then a 1 minute plank hold. Repeat four times.
1 minute of jumping and 30 seconds of push-ups.
1 minute of backward jumping and 30 seconds of tricep bench dips.
1 minute of side to side jumping (imagine your feet are bound together, and jump rope while hopping from side to side) and 30 seconds of lunges.
1 minute of skipping rope (one foot lands as the other takes off) and 30 seconds of jumping squats.
1 minute of single leg jumping (30 seconds on one leg, then switch), and 30 seconds of mountain climbers.
1 minute of alternating high knee jumps (like the skipping rope move, but pull your knees up as high as you can), and 30 seconds of flutter kicks.
Take one minute of rest, then repeat the entire circuit. Cool down and stretch after two rounds.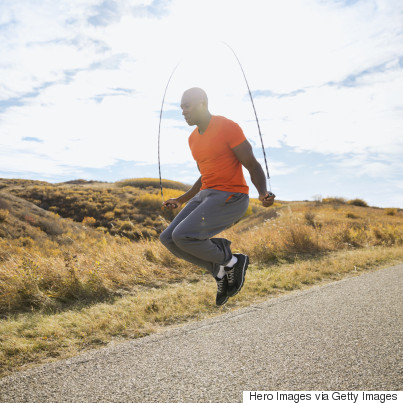 The Do-Anywhere, Total-Body Workout
By mixing jump rope exercises with bodyweight movements you can get a full body workout without a gym. Christy Johnson, a Portland, Oregon-based certified personal trainer says she often recommends jump rope-based workouts for time-crunched clients. "You don't have to do it for very long to get a benefit," she says.
Set a timer for three minutes. For the first three minutes, cycle through doing 20 two-footed jumps, 20 jumps on the right foot, then 20 jumps on the left foot. When the three minutes is up, do one minute of air squats.
Repeat this 3-to-1 routine five times, subbing in push-ups, plyo-lunges (jump from one leg to the other), tricep dips, and planks for the squats. With a few minutes of warm up and cool down, you've worked every major muscle group and burned hundreds of calories in less than 30 minutes.
Get more jump rope routines – HERE.
Follow RoDigga @RoDigga on Twitter/Instagram/FaceBook and be sure to tune into the Warm Up Show weekdays 10am-3pm on Z1079!