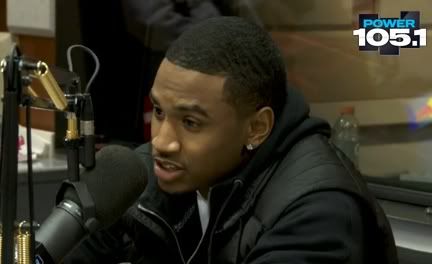 Trey Songz stopped by Power 105 1's "The Breakfast Club" to talk about his new album "Chapter V," speaks on being the first blackman to ever be in a Texas Chainsaw Massacre movie and talks on the Trayvon Martin situation.
Trey Songz chatted with The Breakfast Club earlier about his budding acting career, his "Chapter V" album and serious subjects like Trayvon Martin.  Here are the highlights:
On his upcoming "Chapter V"
Trey says it's all about timing and he's in no rush to release the record.  He and his record label have come to an understanding that he's going to release mixtapes to build his brand and feed his fans.  He did reveal he's recorded 30 songs….but the album isn't done.
On crossing over musically
Trey says he's in no hurry to "cross over" to the Jersey Shore crowd.  It's important to him to keep his music urban and have a foothold on R&B.
On why sex is better than love
Trey revealed that he's been in love before and that feeling (of living for someone) far surpasses sex.
On his success so far
Trey defines what success means for himself.  He added that he just toured off the success of a mixtape where he sold over 60,000 tickets and tons of merchandise so he isn't worried about industry standards of success.
On rumors he was robbed in Brooklyn
He says he was never robbed in Brooklyn.
On the Trayvon Martin case
He says that the situation is outlandish and it's great that people are taking a stand.  But he added, young black men die everyday. We can't let this be a fad.  "If we take a stand for something we have to be committed." [Totally agreed.]
On his upcoming Texas Chainsaw Massacre movie role
Trey revealed he is the first black actor to be a part of the franchise.