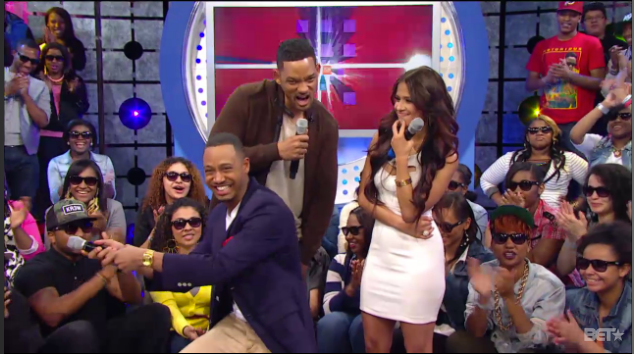 Will Smith stopped by "106 & Park" today to have some fun with hosts Terrence J. & Rocsi.  He dished on making a Bad Boys 3, his new movie Men In Black 3, why his kids are BOSS, son Jaden's upcoming TV show, and he even bust a freestyle.  Check the videos inside…
Mr. Smith is doing promo all over the place.  And ahead of his NYC premiere tonight, he stopped by BET's "106 & Park."  He revealed everybody all over the world spits the "Fresh Prince Of Bel-Air" theme song 20 years later!  He also schooled the kiddies on disciplining themselves in order to achieve their dreams.
As for whether there will be a Bad Boys 3 with co-star Martin Lawrence, he confirmed:
"I talked to Martin [Lawrence] about that a couple of weeks ago. Martin is into it and we got a couple of screenplays and the story's gotta be right."
Sounds like it's on it's way. And we're loving that. As for why people should go see his current film dropping tomorrow Men In Black 3, he says it's a fun movie for the whole family with a huge twist at the end. And, of course, it's also in 3D. 
Check out the interview and watch his freestyle here: SOURCE
Y'all must have forgot rapping is how he started.  But don't expect to see him getting back into music anytime soon–he says there's too many other people in his house (kiddies Jaden & BET Award nominee Willow) doing music and he's busy producing for them.  Gotta love it!
BONUS: That foolish reporter from the Ukraine who got smacked up by Will after he tried to get kissy with Mr. Smith on a recent red carpet, has now apologized.  Hip Hollywood chatted with the reporter about his motivation for attacking Will with his lips–check it below:
Be sure to tune into the Midday's weekly 10am-3pm with RoDigga!